Contact
Us
If you wish to contact us at Dreams Agency, then please use
the below information.
Call
us
Tel: 01920 466 560 (London office)
Tel: 0844 740 7056 (Birmingham office)
Write to
us
Hertfordshire (Head Office)
Dreams Agency Ltd (HQ)
The Court Yard Barn,
Buckwell Lane,
Clifton upon Dunsmore
CV23 0BJ
London
Dreams Agency
3rd Floor
86-90 Paul Street
London
EC2A 4NE
Birmingham
1st SAS House Lawden Road
Bordesley, Birmingham B10 0AD
USA
Dreams Agency
7950 NW 53rd Street, Suite 337
Miami, Florida 33166, USA
Model sign
up

Send us
mail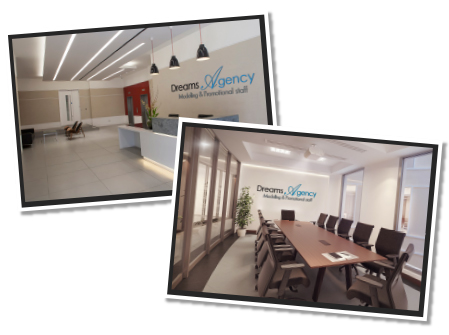 Make a
booking & quote
Whether you're looking for Promotional staff, Grid girls or Models you have come to the right place. To view the majority of our team, simply click onto the "Our promo models" which features a full range of our available promotional staff (male and female – UK only) and grid girls. For an instant online quotation please complete the below form and we guarantee to respond to you within 15 minutes (Monday - Friday 9am - 5pm)
Due to the size of our promotional team, we have not listed each individual profile. However once we receive your request we will happily send you a selection of our available staff performer PDF portfolio cards. For further information on what our promotional team offer, simply navigate across to the promotions page or exhibition staff page.
Remember we cover the whole of the UK and x10 major countries across the globe and have locally based staff in all major cities. This allows us to keep costs low and not to include additional travelling costs and hotel costs. We are also part of an exclusive global network of leading promotional staffing agencies, this means we can assist with staff all over the world.
Booking/Quote
Form
For an instant quotation please complete our booking form or contact one of the Dreams Agency booking team on 0844 740 7056.